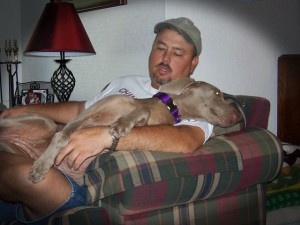 At Brymar Weimaraners we are committed to the excellence of the Weimaraner breed. We strive to produce versatile dogs capable of competing in any number of events ranging from the show ring to the field and everything in between. At the same time we make sure to focus on producing Weims that we can live with and that will be an integral part of people's homes and their families. We are a small breeder and normally only produce a litter every couple of years. It is no understatement that our focus is on quality not quantity.
We are located in Troy, Texas just north of Temple and about 25 miles south of Waco on I-35. We have placed puppies with families all over the United States. We are active in the Weimaraner Club of America and support its code of ethics. Our puppies are always futurity/maturity nominated and although we strive to place puppies in homes where they will be competed with in some form or fashion, our number one priority is to place them in homes where they will be properly cared for, loved and allowed to engage with their human family.
We began loving this breed nearly 30 years ago. I owned a Weim purchased from a non-competitive breeder. By non-competitive, I mean they had AKC registered Weims but they did not show them or compete in any other way. Her name was Lucky and she was a blue. She was not much for confirmation but she was a true sweetheart. At the same time we got Lucky as a pup my wife got a Rottweiler puppy named Sheba. The two were virtually inseparable. We spent some great times going to the lakes around San Angelo in my old Scout each one with a head sticking out of a window in the back. Sadly their adventurous nature made it a challenge for me to keep them in the yard. One day the two managed to scale my 6 foot privacy fence. I looked all over for them. I drove down every alley and road in my neighborhood. They were found over 5 miles from my home by animal control. Lucky had been hit by a car and Sheba was standing over her not letting anyone near. Lucky was gone. I was devastated.
It took me over a year to decide that I was ready for another Weim. In the meantime my wife had gotten a Shitzu pup. No offense to admirers of that breed but boy was that a mistake. Sheba tolerated Gizmo but just like me, she missed having a Weim around to play with. All this time I had been a member of the Weimaraner Club of America. Even after Lucky passed, I got those magazines every month. Finally I decided that I was ready for another Weim so I began looking thru the magazine for litters being advertised. I thought that one day I might like to show or something so I wanted a pup with a nice pedigree.
One day I opened my magazine to find an ad by Kasamar Weimaraners and Mrs. Karen Sandvold. It just so happened that Karen was listed as the show chairman for the show futurity a few pages later. Naturally I figured if I wanted a good Weim, Karen would be a logical source. Karen and I talked for a few weeks and after much discussion or interrogation, she agreed to sell me a pup. The great part of this story is that thru all of our discussion she never realized I also owned a Rottweiler. The day before we were going to meet her at the show to get our pup Karen put the brakes on and refused to sell me a pup because I owned a Rottweiler and she was worried about her puppy. I told Karen all about Sheba and told Karen we were coming to Fort Worth and bringing Sheba with us for her to meet. Karen told me " well if you want to drive all this way for me to tell you no, then go ahead". We did just that. Me, my wife, my 2 year old son and Sheba packed in to the little 2 door import we owned at the time and headed for Fort Worth. The night of the show Karen came to our Motel room and brought the puppy with her. Karen looked Sheba over from head to tail checking her teeth, her eyes, her nails as well as coat condition. She asked we what I food I fed and a million other questions. Suddenly the puppy bit on to Sheba's ear and began pulling on it like a tug of war game. Sheba did not even lift her head. Karen looked on in shock and then looked at me laughing and apologized stating there is no reason whatsoever she can find to deny me a pup. This pup was Indy "Kasamar Bleu Mist of Indigo" and she opened a new chapter in our lives. My relationship with Weimaraners would have never been possible without Karen Sandvold. She has been my mentor and I am honored to call her my friend. I spent many years just listening to her and trying to soak up her decades of Weim knowledge. I appreciate all of her advice and guidance. More than anything she is the reason I got Jake "Ch Kasamar Galahad JH SD NRD V". Jake was simply the best. We will discuss him in greater detail later.
I have been an AKC pointing breed judge for Hunt Tests and Field Trials for about 17 years.  I have been on the Weimaraner Club of America's National Field Committee for 3 years.  I am also and AKC Breeder of Merit.
Simply put all dogs are a commitment…for life. Indy lived until she was 13 and Sheba was almost 16 when she passed. Weimaraners in particular require you to allow them to be an integral part of your family. I would not call them high maintenance however it is essential that Weimaraners be given an opportunity to engage with their human companions on an ongoing basis. Failure to provide them with the attention they need can be devastating to your property. I am a firm believer in the saying that there is no such thing as bad dogs…just bad owners. If you do not take the time to crate train your dog at an early age it sure is not his fault. I am no super trainer but I cannot even remember the last time one of my dogs had an "accident" in my house. I am a firm believer that crate training at an early age is the reason why. If you allow the cute little 10 pound puppy on your couch with you, what do you think the 75 pound grown up dog is going to want to do? You must establish the ground rules and stick to them. You are the Alpha.
I've read the articles on the internet about how high strung Weims are.  Also much is said about all the exercise they need and hard to train.  Then folks come to my house and see how laid back my dogs are.  This is not because I'm a great trainer but rather because my dogs are always in the house and always around their human family.  Sure they get wound up when I first come home and see them.  They are overjoyed to see me.  Within a couple minutes, I just tell them to go on and they disperse to their one area in the house.  Calm, laying down, perhaps coming over for a loving caress.  At night I say "kennel" and most of my dogs go right to their crate.  Sometimes they will just go there on their own just to chill.  Bottom line is that your dog will be what you make it. Remember the saying, "there are no bad dogs, only bad owners".