As you review this section you will notice that I make every attempt to compete with my Weims in All Breed Field Trials. I feel it is very important to breed only the best to the best. In order to do so, one must beat the best. Too many times judges I run under are surprised to see a Weimaraner that actually runs and hunts. While I am proud to own a couple of dogs that may surprise that judge, it disappoints me that they have this opinion of the Weimaraner in the field. There is a growing number of folks that feel the same way that I do and I am encouraged that more and more Weimaraner owners look to go toe to toe with other breeds that have the reputation of domination.
Bourbon Wins the National Field Futurity!  Kory and Tamra dedicated the win to Bourbans' late brother Chief  got out and sadly was found dead near some train tracks.  Thank you guys!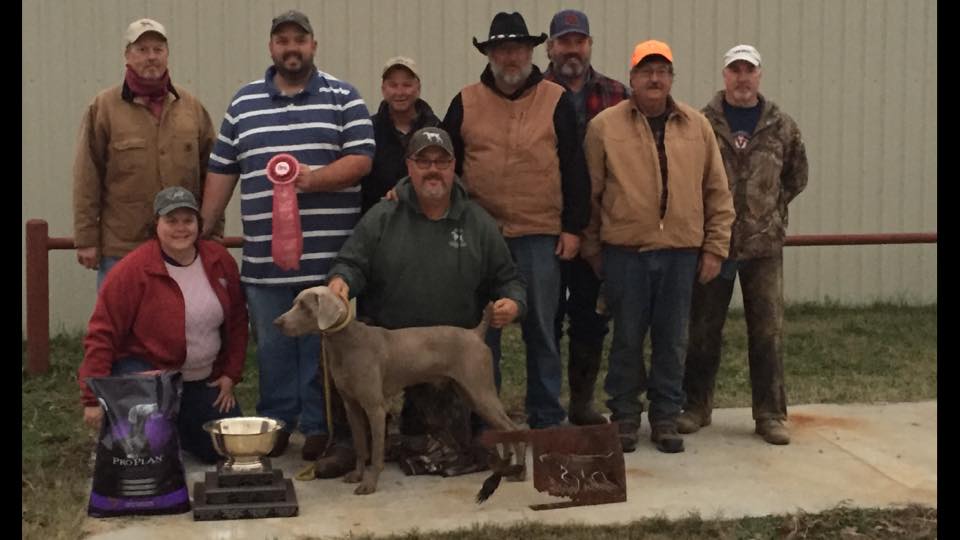 Holley wins the puppy stake at the National Field Championship and her sister Charlie places 3rd!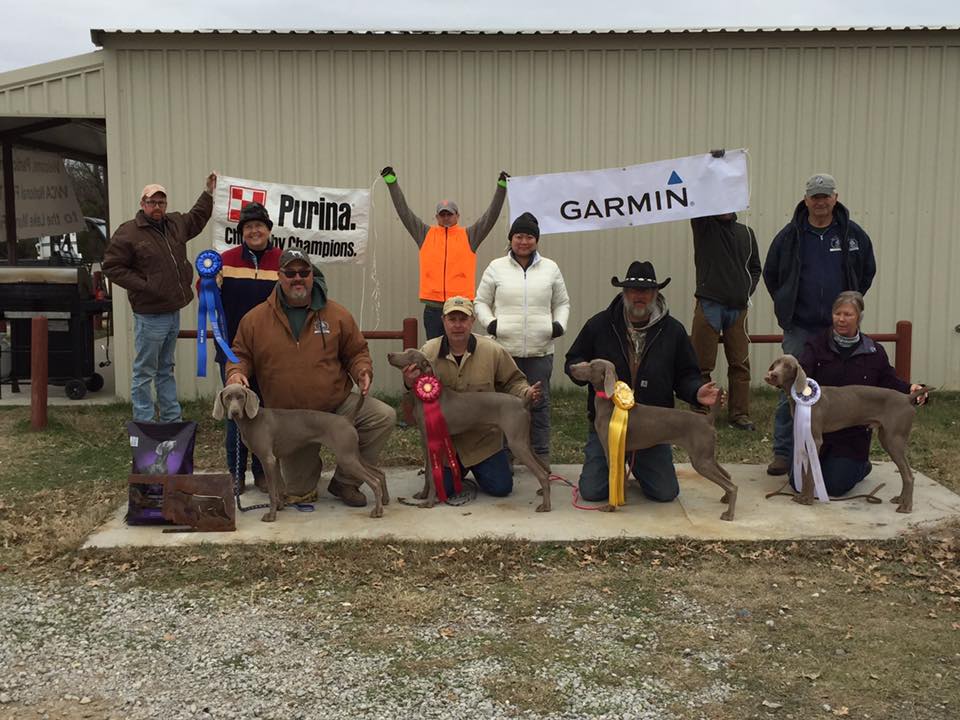 Chief wins the Eastern Classic Field Futurity!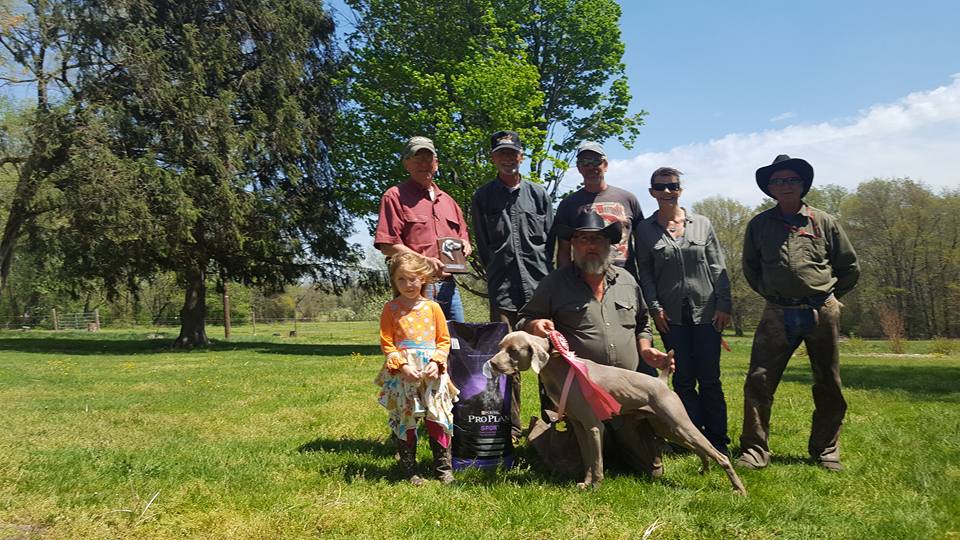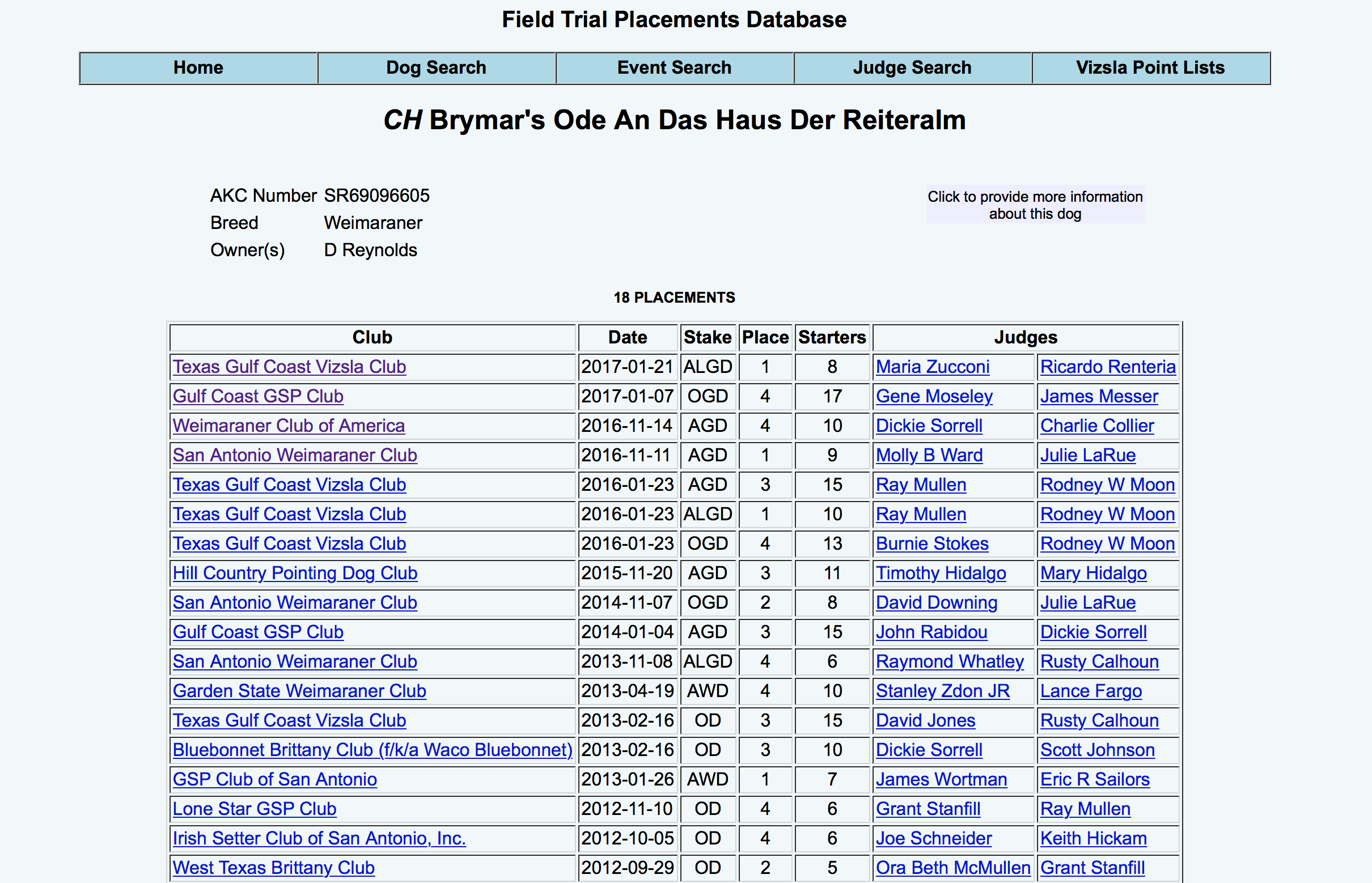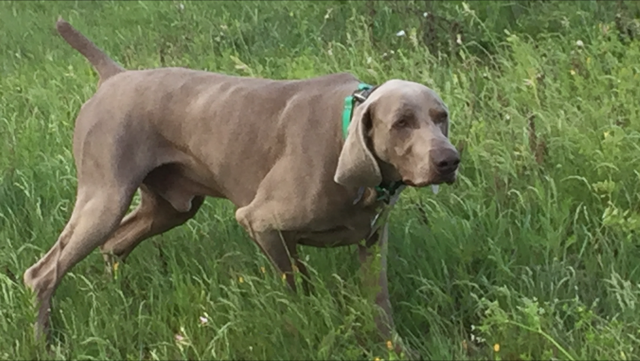 Odis finished conformation in just four shows.  He completed his SDX this past season and got a few more broke all breed FT placements as well as two wins.  He now has 5 FT points all all 4 of his required retrieving points.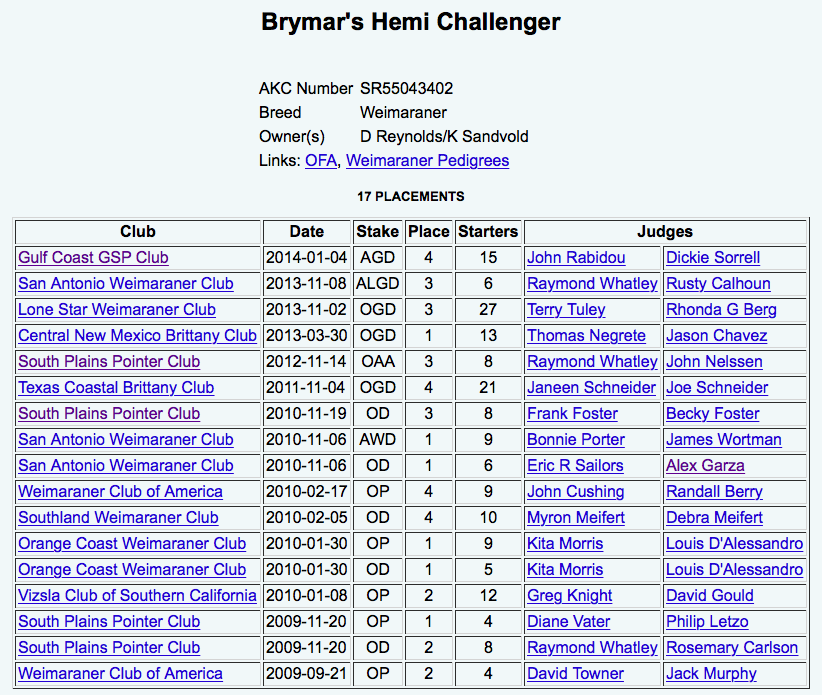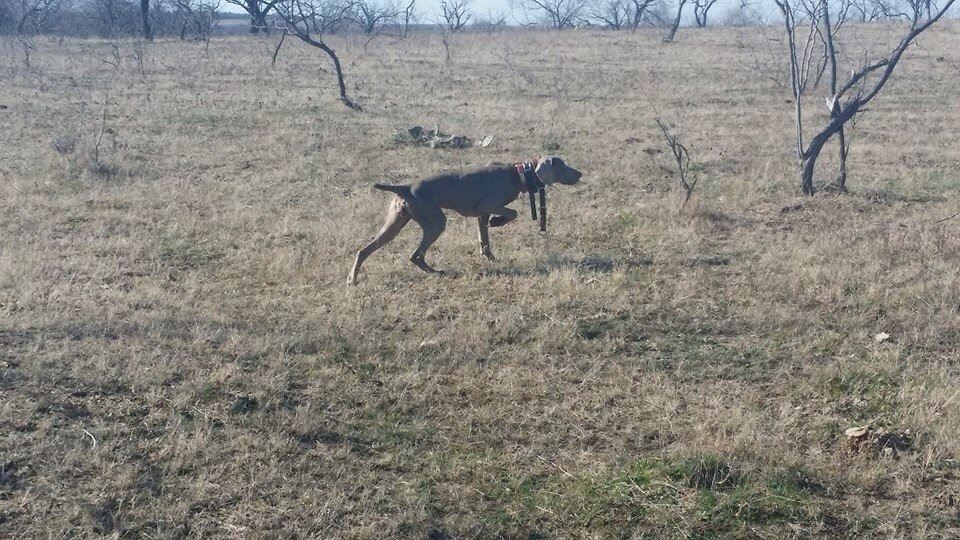 Chally has 7 points now with her major behind her and we are chasing retrieving points. Chally is heading into retirement and she is available to the perfect home.  She is a sweet girl and a perfect lady in the house.  She is a proven hunter and retrieves to hand.  Now….she might leave on the shot but she will retrieve!  LOL
Between Odis, Chally,'Cuda, Addy and Shiner we have some real fun to look forward to!
Click Here For More Gallerys!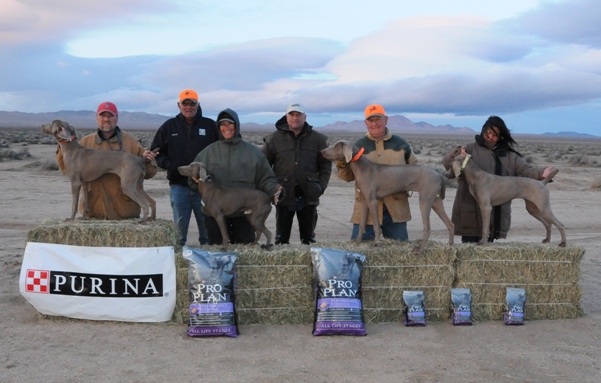 Open Puppy – Judges: Randy Berry and John Cusing
1 – Brymar's Hemi Cuda (FC Buck's Blue Boy x CH Brymar's Emmy Hemi v Kasamar) B/David Reynolds and Karen Sandvold O/David Reynolds H/Steve Reynolds
2 – Heartbeats Smokin White Walls (Heartbeats Chevy Stingray x Rockridges Miss Tia) B/O Mike Wiacek H/Diane Vater
3 – Snake Breaks' N Reiteralm's Gleaming Saber (NAFC/FC/AFC Snake Breaks Sgt Schultz x FC Saga's J.P. Getty v Reiteralm) B/Tim Smith and Virginia Alexander O/Wayne Cowles and Virginia Alexander H/Steve Reynolds
4 – Brymar's Hemi Challenger (FC Buck's Blue Boy x CH Brymar's Emmy Hemi v Kasamar) B/David Reynolds and Karen Sandvold O/David Reynolds H/Steve Reynolds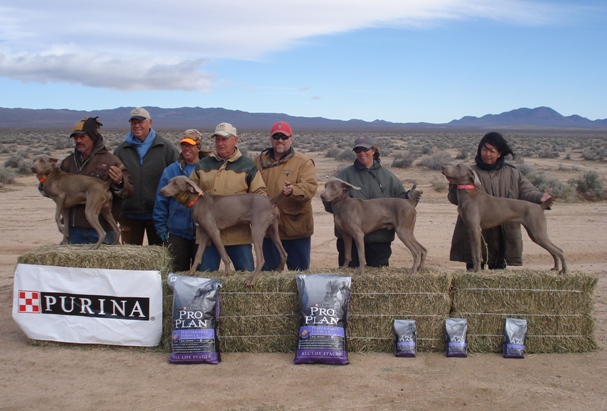 Open Derby – Judges: LeRoy and Lynn Merrell
1 – Grau Geist's Blade Runner (FC Outdoors Sport x Grau Geist Rising Star v Maus) B/Gene and Nicolette Mason O/Ray and Connie Nowell H/Diane Vater
2 – Snake Breaks' N Reiteralm's Gleaming Saber (NAFC/FC/AFC Snake Breaks Sgt Schultz x FC Saga's J.P. Getty v Reiteralm) B/Tim Smith and Virginia Alexander O/Wayne Cowles and Virginia Alexander H/Steve Reynolds
3 – Grau Geist's Hidden In Plane Sight (FC Outdoors Sport x Grau Geist Rising Star v Maus) B/O Gene and Nicolette Mason H/Diane Vater
4 – Brymar's Hemi Cuda (FC Buck's Blue Boy x CH Brymar's Emmy Hemi v Kasamar) B/David Reynolds and Karen Sandvold O/David Reynolds H/Steve Reynolds
JAM – Westweim's Southern Style (FC Buck's Blue Boy x FC/AFC Gould's Outlaw Jesse Jane) B/Cyney Hansen and Frank Sommer O/Bill Prillaman and Meredith Wadsworth H/Steve Reynolds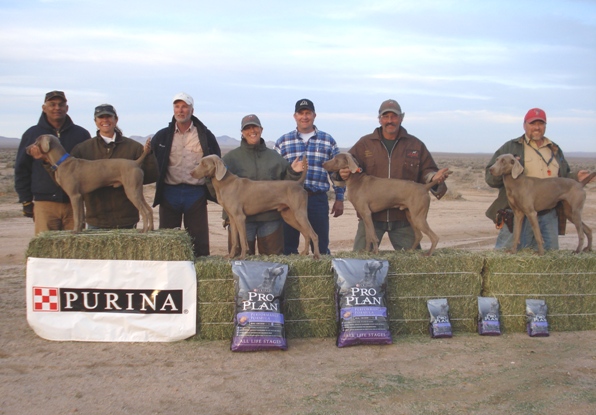 Field Futurity – Judges: Wayne Down and David Gould
1 – Caprock O'Smokn HotnHearty (GRB's Hearty Burgundy x Caprock Rev's Ollie Hot N Tot) B/Kevin Jahr O/H Gina Bosio
2 – Grau Geist's Texas City Slicker (FC Outdoors Sport x Grau Geist Rising Star v Maus) B/O Gene and Nicolette Mason H/Diane Vater
3 – Grau Geist's Blade Runner (FC Outdoors Sport x Grau Geist Rising Star v Maus) B/Gene and Nicolette Mason O/Ray and Connie Nowell H/Diane Vater
4 – Brymar's Hemi Cuda (FC Buck's Blue Boy x CH Brymar's Emmy Hemi v Kasamar) B/David Reynolds and Karen Sandvold O/David Reynolds H/Steve Reynolds